Education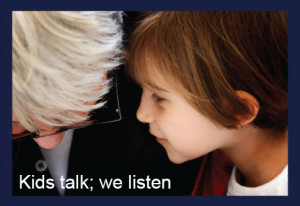 2018 Events
May 23 to 26 Meeting With Children - Lorri Yasenik and Jon Graham
Calgary SW
1314, 15th Ave South West Calgary
Meeting with Children places the meeting with a child as a central element in family mediation processes.
How do we create opportunities for children to describe their experience of their family life in the post separation world. How do children and young people want to speak with us? How do we get out of the way and just listen to what children have to say?
This course teaches play based and expressive techniques to create a safe space for sharing through metaphor. The course also teaches pathways for giving information back to parents in ways that honors the child's right to privacy.
Meeting with Children is a four day program. We cover:
Authentic listening and the child voice
Child development and attachment theory
Models for play based meetings with children
Five strategies for a child meeting
Meeting with parents and how to give feedback
More Information
June 11 and 12 The 2018 ADRBC Symposium - Passion, Purpose and Impact in Challenging Times
Morris J Wosk Centre for Dialogue, SFU
580 West Hastings Street, Vancouver (enter via Seymour Street courtyard entrance)
The
2018 ADRBC Symposium
brings together a progressive, dynamic group of professionals including arbitrators, mediators, lawyers, in-house counsels, HR professionals, corporate and other users of ADR services. The eclectic line-up of speakers presenting at the 2018 Symposium will explore a wide variety of topics related to the challenges, opportunities, new developments and the rapidly expanding role of ADR in the 21st century.
Roster members may register at a discount by choosing the "Co-operating Entities" registration option on the
registration page
.
June 20 CLEBC: Voice of the Child [7 hours]
Presented by: CLEBC
Instructor: Arlene H. Henry, QC and guest presenters
Vancouver, BC
Individuals seeking to apply to the BC Hear the Child Roster as a non-evaluative child interviewer can register for Day 3 of the 5 day PC training course which will focus on the "Voice of the Child". The social science research on the benefits and cautions of listening to the voices of children and adolescents will be reviewed; and various ways the child's voice can be obtained and integrated into different dispute resolution options will be identified, such as child representation, mediation, assessment, parenting coordination, and judicial processes. The factors related to the reliability of the input provided by children and adolescents, including interviewer bias, memory, suggestibility and maturity, will be discussed. Finally, a developmentally informed interview protocol will be introduced.
BC Hear the Child Society recognizes 7.0 hrs towards the child interview skills portion of the basic training;
BC Parenting Coordinator Roster Society recognizes 7.0 hrs towards their child interviewing portion of the PC basic training.
Details & Registration