Education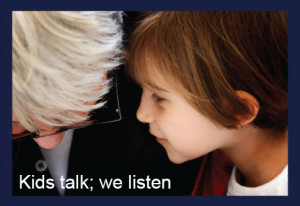 2019 Events
Presented by: BC PC Roster Society
Instructor: Arlene H. Henry, QC and guest presenters
UBC Robson Square, Vancouver, BC
Individuals seeking to apply to the BC Hear the Child Roster as a non-evaluative child interviewer can register for Day 3 of the 5 day PC training course which will focus on the "Voice of the Child". The social science research on the benefits and cautions of listening to the voices of children and adolescents will be reviewed; and various ways the child's voice can be obtained and integrated into different dispute resolution options will be identified, such as child representation, mediation, assessment, parenting coordination, and judicial processes. The factors related to the reliability of the input provided by children and adolescents, including interviewer bias, memory, suggestibility and maturity, will be discussed. Finally, a developmentally informed interview protocol will be introduced.
BC Hear the Child Society recognizes 7 hours from Day 3 towards the child interview skills portion of the basic training segment of the Roster application;
BC Parenting Coordinator Roster Society recognizes 7 hours from Day 3 towards the child interviewing portion of the basic training segment of their Roster application.
For more information, please click here.
October 8 Family Law 2019: Parenting and Custody
Presented by: Pacific Business & Law Institute
Instructor: Mary Mouat, Q.C.
UBC Robson Square, Vancouver, BC
Parenting and custody considerations are some of the most delicate and complex issues faced by family law practitioners. The Family Law Act requires lawyers and others working with families to ensure that parents and the courts consider the best interest of children only. Disputes involving children can be damaging to the children and the family. Disputing parents can heighten intensity and create additional conflict and cost in already complex family disputes. Lawyers and others practising in this difficult area, along with their clients, benefit from maintaining an up-to-date understanding of the law, and of best practices, strategies and tools for resolving disputes and reducing conflict while protecting the best interests of the children.
For more information, please click here.