Education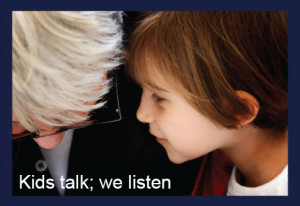 2018 Events
January 24 to 27 Meeting with Children -- Skills for Family Law Professionals
Presenters: Dr. Lorri Yasenik and Jon Graham
Edmonton, AB
At the conclusion of this course participants will be able to:
▪ Identify what it means to be child centred and non-evaluative when including children and youth of separated families and in child protection environments
▪ Engage in directive and non-directive ways of meeting with children and understand metaphor and projection as ways children show and tell you about their lived worlds
▪ Identify the four levels of child involvement and the cases in which each level is most appropriate
▪ Apply a methodology for each of the four levels to compare and contrast the presentation of cases at each level
▪ Make use of the Child and Youth Concerns Scale, the Parent Readiness Scale, and the Child and Youth Readiness Scale
▪ Be able to effectively provide feedback to parents and other third parties
▪ Understand the ethical implications of child-centred practice, and the challenges of child- centred strategies
Details
Registration
June 11 and 12 The 2018 ADRBC Symposium - Passion, Purpose and Impact in Challenging Times
Morris J Wosk Centre for Dialogue, SFU
580 West Hastings Street, Vancouver (enter via Seymour Street courtyard entrance)
The
2018 ADRBC Symposium
brings together a progressive, dynamic group of professionals including arbitrators, mediators, lawyers, in-house counsels, HR professionals, corporate and other users of ADR services. The eclectic line-up of speakers presenting at the 2018 Symposium will explore a wide variety of topics related to the challenges, opportunities, new developments and the rapidly expanding role of ADR in the 21st century.
Roster members may register at a discount by choosing the "Co-operating Entities" registration option on the
registration page
.