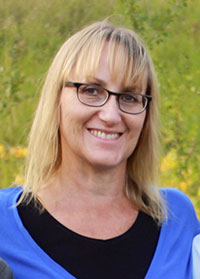 Counsellor
Play Therapist
River Counselling Centre
PO Box 575, 6322 Campbell Rd
Chetwynd, BC V0C 1J0
T: 250-263-5890
E: mclainlynne@gmail.com
W: rivercounsellingcentre.com
Registered Social Worker
Registered Play Therapist
Lynne was born and raised in the BC north. She has been married 26 years and has 3 sons, a stepson and a grandson. She has a Bachelor's degree in Social Work and a Master's degree in Counselling Psychology. Lynne has worked with children and families for over twenty years as a counsellor, Family Preservation Worker, Special Needs Consultant, Behavioural Interventionist, foster parent and clinical therapist. She operates her own counselling agency. In 2012, she obtained certification as a Registered Play Therapist.
Lynne has a certificate in Anxiety Disorders in Children and Youth from Anxiety BC. She facilitates children's groups as well as parent groups in Child Parent Relational Training. Lynne worked as a Child and Youth Mental Health Clinician for 7 years for the Ministry for Children and Family Development. She has over 10 years experience in writing objective assessments and reports about children and their needs. Many of her clients come from blended families and separated parents.
Lynne's greatest passion is giving children a safe place to express themselves and helping them to make sense of their worlds. She believes in gathering collateral information from several sources in order to best understand what is happening for the child. For children to do well, they need to be heard and understood by the adults in their lives.